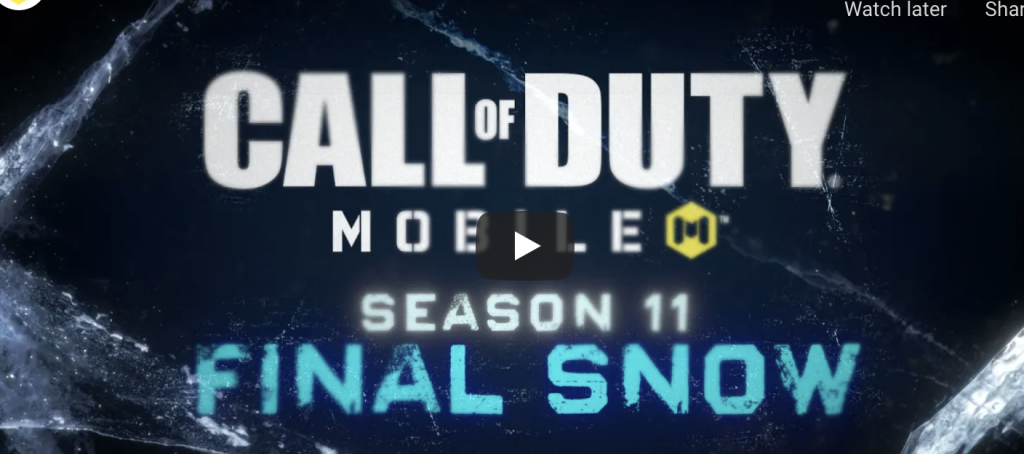 Call of Duty: Mobile is preparing to kick off Season 11: Final Snow which, among other things, will introduce the new Icebreaker map and see the return of the Undead Siege game mode. The season will start on Friday 17 December
In Season 11: Final Snow of Call of Duty: Mobile, players will join forces with the Templars to search for the Dark Covenant among the underwater wrecks, located in the new Icebreaker map, which you can admire in the image gallery below along with the upcoming news. with season 11. This is a map introduced for the first time in the series in Call of Duty: Black Ops 4 and will see players do battle inside underwater wrecks and among icebergs.
As mentioned at the beginning, the Undead Siege mode will also return, this time in the Blackout map, and a new variant of Nighmare, with the undead even faster and more lethal than ever. There is also a new winter-themed multiplayer mode, in which players will battle with snowballs.
During season 11 of Call of Duty: Mobile a new Battle Pass will be available with 50 new levels of rewards, including free and premium content, including: new operators such as Soap, Cliffhanger and Vagr Modir, Whisper of Winter, two new weapons functional, the PKM LMG and the D13 Sector launcher, a new Operator skill, Weapon Blueprints, phone cards, amulets, Call of Duty points and more.
Later in the season, players will be able to play as their favorite content creators in Call of Duty: Mobile, thanks to new packs with custom characters and items.
Here are the main news of Call of Duty: Mobile – Season 11: Final Snow arriving on iOS and Android on Friday 17 November at 01:00 Italian time, as reported in the official release of Activision.
New Map – Icebreaker – New to Call of Duty: Mobile is the presence of the new Icebreaker map, first introduced in Call of Duty: Black Ops 4, which allows players to compete indoors within wrecks of submarines and in places open to the outside among the icebergs. Additionally, the ability to swim was first introduced in multiplayer mode alongside this new map.
Undead Siege Returns – Undead Siege comes to Blackout with updated rewards and a new Nightmare mode. In addition to a longer game duration, Undead have now become faster and deal more damage. Players will be able to face the challenge head-on with new legendary turrets.
New MP Mode – Snow Fighting – What better weapons than snowballs to throw during the winter break? In this new game mode, mysterious gift boxes will appear randomly for players to collect. Each gift box will give a certain type of item and the points earned during the fight will allow each team's snowman to unlock different skins. Players will be able to enjoy the winter holidays with endless surprises in Snow Scuffle.
Creator Club and Custom Packs – Call of Duty: Mobile will launch a limited beta version of a new Creator Club exclusive to mobile devices, to collaborate with all kinds of creators to grow Call of Duty Mobile content. To celebrate the launch of the Creator Club, three of its best content creators are included in Call of Duty: Mobile as playable characters. Players will be able to play as Ferg, HawksNest or Bobby Plays.